Browse the Auburn University C. Harry Knowles Collection Photographs from Genius in America
The C. Harry Knowles Collection consists of materials on the life and career of C. Harry Knowles, including digitized images as well as physical materials housed in Auburn University Library's Department of Special Collections and Archives.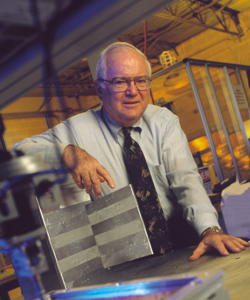 Inventor, entrepreneur, and philanthropist C. Harry Knowles held roughly 400 U.S. patents in transistors, lasers, and bar code scanning technology, a feat which places him among our nation's most prolific inventors. A 1951 Auburn physics graduate, Dr. Knowles spent the better part of 40 years as head of a global bar code scanner company, Metrologic Instruments, Inc., which he founded in New Jersey in 1968. However, his greatest legacy may be his philanthropic efforts as founder of the Knowles Science Teaching Foundation, which supports excellence in high school math and science teaching.
Born August 15, 1928, in Birmingham, Alabama, he grew up in Birmingham and Houston, Texas, graduating from Birmingham's Ensley High School in 1945. He attended Alabama Polytechnic Institute (Auburn University) 1945-1946 and 1948-1951, receiving a bachelor's degree in physics from Auburn in August 1951. (Many of this collection's photos are by Dr. Knowles, including Auburn aerials taken during his college days and as editor of the 1951 Glomerata, the student yearbook.) He served in the Marine Corps 1946-1948.
After receiving a master's in physics from Vanderbilt University in 1953, Dr. Knowles began working for Bell Laboratories in New Jersey, where he joined the explosion of technological genius after the birth of the transistor with his own contributions—via germanium transistors—to Project Vanguard, the nation's first satellite, and the Nike Zeus anti-aircraft missile system. His germanium mesa transistors served the significant computer models of the late 1950s and 1960s and were a major product line, along with silicon transistors, at Motorola when Dr. Knowles worked there 1958 to 1962.
While at Motorola, as assistant general manager for research and development, he developed a star transistor that became the universally recognized "2N2222" transistor, an industry workhorse which would be manufactured in the billions. During his tenure at Westinghouse 1962-1968, then molecular electronics division general manager Knowles developed and presented, at the Institute of Electrical and Electronics Engineers conference in 1964, the basic concepts of the renowned Moore's Law forecasting model for the semiconductor industry.
In 1968, Dr. Knowles established his own company, Metrologic Instruments, Inc., which progressed from producing lasers to educational kits to a plethora of scanning products sold in more than 100 countries worldwide. Headquartered in Blackwood, New Jersey, Metrologic, at its height, employed more than 1,500 people. Dr. Knowles' and Metrologic's inventions were integral to ushering handheld laser scanners into the retail market.
Dr. Knowles was the recipient of many honors, including induction into the New Jersey Business Hall of Fame and two presidential "E" and "E Star" awards for export success. He was honored by Auburn University in 2006 as a College of Sciences and Mathematics Distinguished Alumnus; in 2007, with a Lifetime Achievement Award; and, in 2008, with the university's highest recognition—an honorary doctorate.
Dr. Knowles passed away on January 7, 2020. His life story is recounted in his authorized biography, Genius in America: The Story of C. Harry Knowles, Inventor.