The Philip Henry Gosse Papers consist of forty-nine 4 x 5-inch positive color transparencies of drawings of Alabama butterflies, caterpillars, moths, beetles, dragonflies, and other insects. A gifted amateur naturalist, Gosse sketched and hand-colored the drawings in 1838 while he briefly visited Alabama. The forty-nine transparencies contain the complete set of his drawings of 233 Alabama insects contained in his unpublished Entomologia Alabamensis. The original sketches are in The British Library in London, England.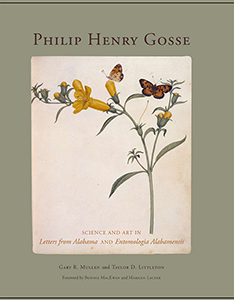 Philip Henry Gosse
Science And Art In Letters from Alabama and Entomologia Alabamensis Book

This beautiful hard-bound book contains full-color plates of actual sized reproductions of Philip Gosse's original watercolors. Philip Gosse is an English born 19th century naturalist who took a teaching job in 1838 in Dallas County, Alabama. For eight months he collected insect specimens that he preserved in detailed watercolors of Entomolgia Alabamensis. He chronologized his life living in a frontier culture in Letters from Alabama. Dr. Gary Mullen is Professor of Entomology Emeritus at Auburn University. Dr. Taylor Littleton is Mosley Professor of Science and Humanities Emeritus at Auburn University.

To purchase, visit the Jule Collins Smith Museum of Fine Art Store.